Rabbids invasion: Mission To Mars is an upcoming TV special.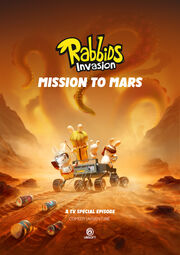 Plot
When Nebulous Industries announces they are recruiting Rabbids for a mission to Mars, Hibernation Rabbid doesn't think twice. As a genius Rabbid misunderstood by his stupid peers, he has always dreamed of going to the red planet. He takes off with three other Rabbids: Disco, the lively queen of the dance-floor, Cosmo, the pilot and Mini, the adorable tiny Rabbid. Facing an interplanetary space threat, our heroes will have to learn how to overcome their differences and understand that true wisdom comes from the heart![1]
Characters In The Special
The characters in the special will include Female Rabbid, Mini-Rabbid (Rabbid), Astronaut Rabbid, And Lapinibernatus (Hibernation Rabbid) Along with a creature with tentacles.
Development
On July 15th, 2019, it was announced in the same article that announced Season 4 coming to Netflix that a TV special was in the works, later a poster and drafts of it made by Two Dots Studios and Seed Seven[2] was released giving fans a sneak peek of what's to come.
Gallery