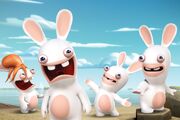 The Rabbid quatrio is a group consisted of four Rabbids. These Rabbids are recurring througout the franchise as they mainly represent the four-player capabilities of the party games. They are one of the main protagonists of the rabbids franchise and of the tv series.
In the games
Edit
Since the Rabbids series mainly consists of party games that can be played to up to four players, the Rabbid quatrio can be used to beat each mini-game.  The only three exceptions are Rayman Raving Rabbids, in which the Rabbids are playable in a few minigames and Rabbids Go Home and Rabbids Land, which only support two players at a time.
In the TV series
Edit
In Rabbids Invasion, the most recurring characters are mostly a group of exactly four Rabbids. Although since there are many diverse types of rabbids spread througout the planet, it is never clear if the same group appears in the episodes.
Community content is available under
CC-BY-SA
unless otherwise noted.